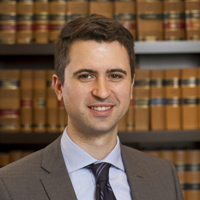 Tim Matthews
Tim Matthews joined Stam Law Office in March 2014. His practice includes Family Law, Real Estate Law and Wills and Estates Law.

Tim studied economics and philosophy at the University of Guelph, before going on to earn his Juris Doctor from Queen's University in 2008. Tim articled at the boutique civil litigation firm Reisler Franklin LLP in Toronto and was admitted to the Law Society of Upper Canada in 2009. Following his call to the bar, he pursued other business ventures before returning to practice with Stam Law Office.

He is a member of the Thunder Bay Law Association and regularly volunteers with the Lawyers Feed the Hungry program. Tim currently sits on the Board of Directors for EcoSuperior. He has also volunteered his time with Law Help Ontario, assisting unrepresented parties with Small Claims Court matters. While attending law school, Tim produced and performed a live radio program addressing general interest legal topics.

Tim's wife grew up in Thunder Bay and they decided to return to her hometown in January 2014. In his spare time, Tim enjoys volleyball, ultimate Frisbee, international travel and film.